1984 was some time ago, but, better late than never I suppose.
For some time now, certain people have been copying our recipes, without asking our permission, which is a breach of copyright.
Now, pinching our recipes is one thing, but one enterprising Fagin is stealing our thoughts and conversations too. Is everything, including social chit chat up for grabs these days? Recipes I can understand, they will be of use to their site members, but of what possible interest can our social chat be to them? I am posting this in the hope that the site owner/perpetrator, or one of his members can satisfy my curiosity.
In case we have members who don't believe me, have a look here.
http://www.halogenrecipes.com/halogen-oven-recipes/daily-recipes/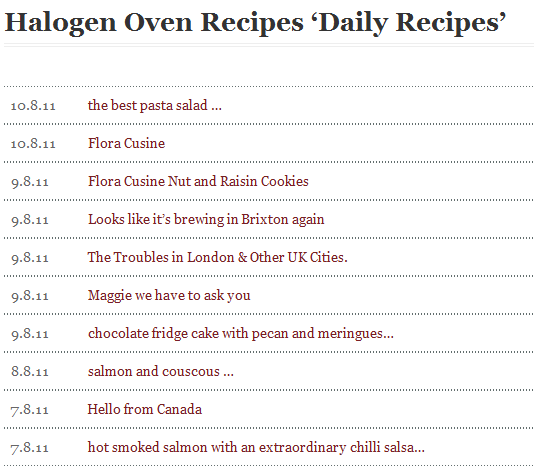 Maggie54




Gender

:

Posts

: 75


THANK YOU

: 16


Join date

: 2011-05-26


Location

: France


Hi Maggie,
Oh Maggie you have to feel sorry for these people, if they have to pinch our chat as well that's a very sorry state of affairs.
Pity our chat is very tame, sounds to me like this person really needs thing spicing up (sorry no pun intended)
Ah well it takes all sorts I guess..............


I don't believe it
Look what I found this morning ....... the Big Brother thread !!!!
Are these posts being copied to this website without being read ?
What happens if one of their members wishes to respond to, eg, Maggie54 ? I suppose if someone has no qualms about taking recipes without asking permission they could also be fooling their members by posting on that site with our usernames, but surely the writing style would be noticeably different. The whole thing makes no sense.
I do wish someone from that site would at least provide an explanation and put me out of my misery.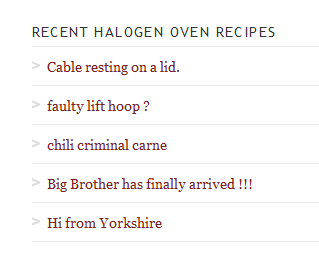 Maggie54




Gender

:

Posts

: 75


THANK YOU

: 16


Join date

: 2011-05-26


Location

: France



---
Permissions in this forum:
You
cannot
reply to topics in this forum