Just thought I would let you know that I am having such fun with my Halogen Cooker. I cooked a roast chicken which was perfect, a frozen supermarket own brand lasagne for my husband and today we had the Macaroni Bake, which was delicious.
Normally I get a bit intimidated by gadgets and take ages reading the instructions, checking and rechecking everything, but I feel so much at home with this cooker. I bought it in my Auchan supermarket for €39, that included the high and low rack, the tongs and an extender ring, so I reckon it was a bargain. Looks just like the JLM one and the recipe for Macaroni Bake is also in my recipe book but there is no manufacturer listed on the box, the appliance or the cooker.
The logo on the lid looks like la%er, the middle symbol is a bit like a percentage symbol with the dots filled in, if that makes sense.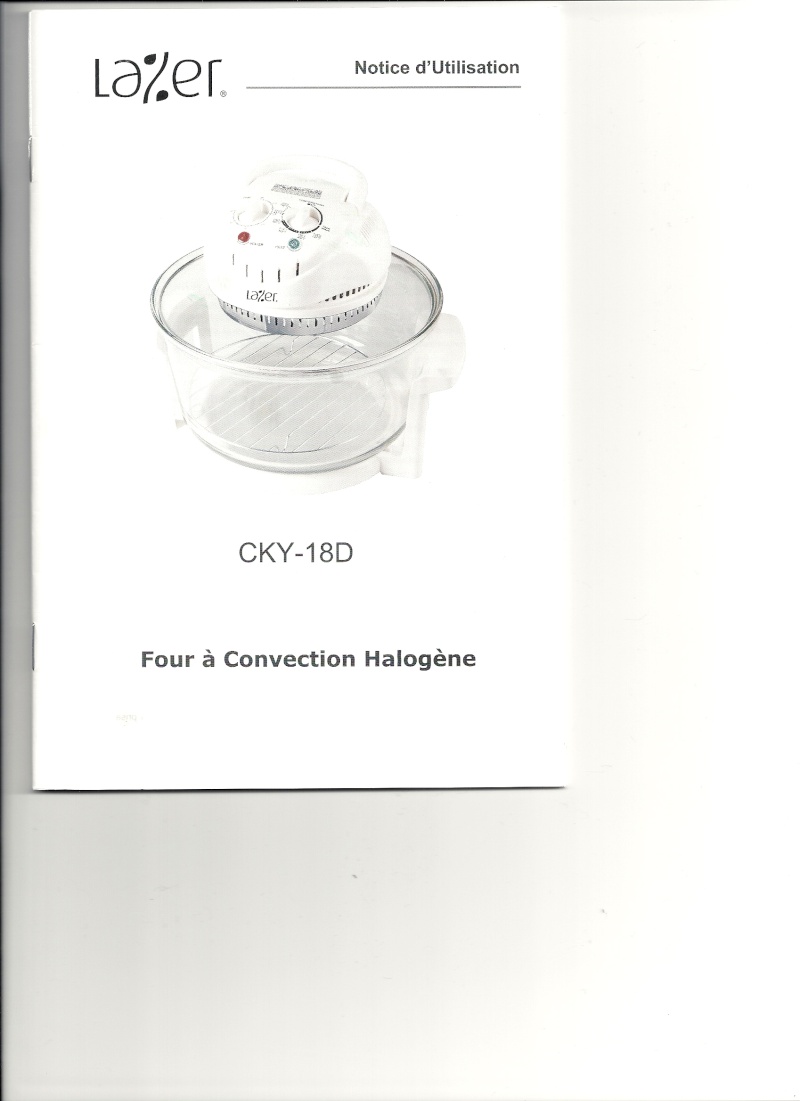 Have managed to scan the front of the recipe book so you an see what I mean.
Last edited by Maggie54 on 29.05.11 15:14; edited 1 time in total (Reason for editing : edited to correct spelling mistake.)

Maggie54




Gender

:

Posts

: 75


THANK YOU

: 16


Join date

: 2011-05-26


Location

: France


Hi and welcome Maggie
So glad you are having fun

junie




Gender

:

Posts

: 1977


THANK YOU

: 373


Join date

: 2010-02-24


Location

: Ayrshire


Hi Maggie,
you halogen oven is from China. The manufacturer is "Delang Electrical Appliance"
They make unbranded Halogen Ovens (various designs and colours) which are bought by companies all over the world and Ebay sellers as well.
Famous companies add their logo before distributing them to the shops. Other sellers don't. It could be that your HO is the unbranded version of the JML halogen oven.

Reeta

Admin




Gender

:

Posts

: 2452


THANK YOU

: 506


Join date

: 2009-09-18


Location

: England


Thanks for that Reeta. I had been wondering if it was a bit dodgy as I cannot recall buying anything before where there is nothing anywhere about the manufacturer, but Auchan is a reputable supermarket and for the price I was happy to take a gamble.

In my recipe section there is one for mussels which is a bit different to the usual method of steaming them in white wine and garlic. I looked under "M" and couldn't see it so apologies if it already here.

500grm mussels
1/4 teaspoon grated ginger
3 tablespoons butter or soft cream cheese
2 onions finely chopped
1/4 teaspoon pepper

Put the mussels in an ovenproof dish. Mix all the other ingredients together and spoon over the mussels.
Place the dish on the high grill and cook at 190C for 10 minutes.

Discard any mussels which have not opened.

Maggie54




Gender

:

Posts

: 75


THANK YOU

: 16


Join date

: 2011-05-26


Location

: France


Thanks for taking the time to share this, Maggie. You are the first with a mussels recipe.
I'll copy this to the A-Z so that it stays easy to find.

junie




Gender

:

Posts

: 1977


THANK YOU

: 373


Join date

: 2010-02-24


Location

: Ayrshire



---
Permissions in this forum:
You
cannot
reply to topics in this forum