Some time ago I made up a method for baking bread in the oven that has become my favourite. It's inspired in the "cloché" method (baking the bread under a clay 'bell' inside the oven). I have tried the 'bell' as well, and also the pyrex method...but using silicone is so convenient and practical... So here it is my tip: when you're ready to proof your dough, place inside a silicone mold with a lid (I use a mold for steaming fish or vegetables), proof either inside the halogen or where you want...and then bake in the halogen oven just like that, inside the silicone mold. You can check it say after 30 minutes, it won't hurt, the bread won't collapse. Time depends on the size of bread; usual temperature, maybe a little higher during the last 10 minutes.
This is the result: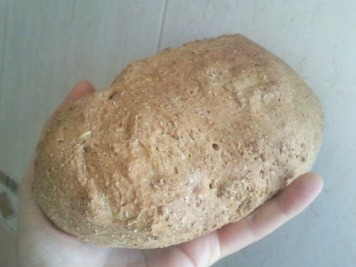 Quite surprisingly, the silicone method produces a crusty bread.
I have placed a slide with the entire process in my halogen oven blog. I'm pasting it here, hope it works:
http://www.slide.com/pivot?cy=bb&at=un&id=2954361355595624232&map=2
Edited by Agent Smith - HTML code conflicting with forum code

MaryMer




Gender

:

Posts

: 15


THANK YOU

: 4


Join date

: 2011-05-21


Location

: Spain


Replying to my own post....

Seems that photograph was too big. Anyway you can see it in the slide....

MaryMer




Gender

:

Posts

: 15


THANK YOU

: 4


Join date

: 2011-05-21


Location

: Spain


Thank you MaryMer.
I have resized the picture so that we can see it fully.
However the slide video was creating some problems for the administration of the forum.
Agent Smith (technical support) had to edit the code. Members can still view it when they click on the link
x x

Reeta

Admin




Gender

:

Posts

: 2452


THANK YOU

: 506


Join date

: 2009-09-18


Location

: England


MaryMer
Thank you very much for taking the time to share this with us.

junie




Gender

:

Posts

: 1977


THANK YOU

: 373


Join date

: 2010-02-24


Location

: Ayrshire


Thank you Reeta and Junie...I am contributing, but I am certainly learning a lot by reading posts in this forums.


MaryMer




Gender

:

Posts

: 15


THANK YOU

: 4


Join date

: 2011-05-21


Location

: Spain



---
Permissions in this forum:
You
cannot
reply to topics in this forum